I can still see my classmates from the University of Toronto rolling their eyes. "Ugh, she's talking about Norway again… hurrgenn flurrgenn blerrrrg." I would quickly shut my trap and change the subject.

In the year before I started at the university, I and a student from Ajax were awarded a full scholarship to study at what's called a Folk High School just south of Oslo in Norway. I would study music and theatre and the other Canadian student would study dance. If I tell people now that I studied and lived in Norway for almost a year, a startling number of them look at my dark features and Greek side burns and naturally ask "Why, are you Norwegian?" After biting my tongue and resisting the urge to simply end the conversation by walking away, I tell them that no, though my dark brown hair and Mediterranean features may give me away as a Viking descendant, I lived in Norway because I was given a scholarship to study there for a full school year.

This was to be my first trip to Europe and my first long stay away from home. I had my passport updated (with a picture that made me look like a meth addict); I had my backpack and two gajillion-pound Mountain Equipment Co-op duffle bags packed; and my father had even given me the awkward "Europeans can be more promiscuous than Canadians" talk. I was ready to go.

My parents drove me to the airport in relative silence. The year prior we had done the same quiet drive to the University of Waterloo when my sister flew the coop. They spoke in three-word, tight-lipped sentences every few kilometres making sure I had my tickets, my passport, the papers proving my intentions to study at Follo Folk High School. There was a sad kind of panicky silence hanging like pine-scented air-freshener in the Corolla. They would soon be empty nesters.

We parked in the overpriced lot at the airport near the actual entrance to the terminal. Wow. We never parked in the overpriced lot; my dad was clearly losing his mind. I checked my bags warily. I was sure that they were going to be overweight with the Complete Works of Shakespeare (and the other twelve million pounds of books I needlessly packed) weighing them down. The bags cleared and we went to find some dinner at an airport restaurant. My mom and dad smiled, brimming with pride, put on their cheeriest faces and talked about all the great things I was going to do and see. None of us ate what was on our plates.

When it came time to finally say goodbye at the gate, we all cried. I'll never forget how my dad held my face in his hands, tears streaming down his cheeks and said "Be good. I love you." Heartbreaking.

I was a bit shattered when I got on the plane and I've always hated flying (which is ironic because I later married a pilot), so I was full of nervous energy and wild, unpredictable emotion. It manifested itself in a maniacal conversation I forced on a petite English businessman. The poor bastard sat beside me all seven hours to Heathrow, in London, and I wouldn't let him get a word in.

"Oh-are-you-English? That's-great-I-love-the-English. Pippip-cheerio-and-all-that-eh? Nawww…I-love-the-English-I-do…English-writers-and-poets-and-such. You-must-be-into-business-because-you-look-really-important. HAhahahaHAhaha. So-where-are-you-going? I'm-going-to-Norway-because-I-got-a-scholarship. I'm-a-singer-and-an-actress-too-though-I-like-to-say-acTOR. Hahahahaha… O-my-god-my-mom-and-dad-just-cried-so-much-and-I-feel-so-bad-for-them. I-really-should-call-them-when-we-land… "

I'm pretty sure he went to sleep at some point and I just kept talking.

We had a stopover of a couple of hours in London. The English businessman disappeared like a greased pig into the massive crowd of people and the yawning chasm of shops and fluorescent lighting. I found the "loo" and once I figured out how to flush the damn toilet (honestly, there's a sort of plunger on the top that I pushed and pulled for at least six minutes) I saw my reflection and realized that I was already looking like a bag of shit tied in the middle. I don't really travel well. No wonder that dude ran away. Ugh. But, there was nothing to be done.

Another two-hour flight later and I landed in Oslo. I was starting to get really exhausted. My comforting little posse of English people had dwindled in numbers and was replaced with Norwegian business people all churgling and flurgling together. With my backpack and two enormous duffle bags in tow, I managed to find my way to the bus. By some miracle, I found the one that said "sentralstasjon" which my dad and I had worked out would take me to the heart of downtown Oslo where the train station was. I saw some trendy young blond girls with big backpacks on the airport bus, so I got off where they did. At the "senn-trrawl sta-shoon" stop, the driver helped me get my bags and drove off revealing the flurgin' GIANT flight of stairs leading up to the front doors of the station.

Really?! Really, Norway?!

I think I stood there for a good 10 minutes, glassy-eyed, staring at the stairway to heaven, half-slumped with my bags sliding off my shoulders to the sidewalk. Part of me wanted to get back on the bus, any bus and take the next flight home. As people came and went zipping past me on the stairs, they stared. I looked like a deranged homeless person, lip quivering, disappearing under numerous bags, wearing a peach juice-stained high school sweatshirt (I had spilled the contents of a fruit cup down my front during some turbulence on the plane.) Don't let the Norwegians see you cry. I took a breath, slugged my way up the stairs like an aging Sherpa, all the while cursing William flurgin' Shakespeare and his Complete flurgin' Works.

When I entered the station, it was like walking into a bad dream. Looking around, everything was the same as back home: ticket booths, fruit stands, newspapers, train schedules, even Burger King, but the signs and all the print were sort of backwards and upside down-looking. Oh my god, what do I do now? I knew I had to get to Vestby, where Follo Folk High School was. I accosted a surly ticket booth lady who looked like she had cut her own hair in a dark closet with sharp spoon and in very broken Norwegian asked her what train would take me to Vestby. Really, the only Norwegian words I knew were "yes", "no", "thank you very much" and "don't do that." She shoved a flimsy ticket my way and I paid her.

"Toozen Tuck." I said, grateful. She just looked at me and slammed her booth window shut. Okay. Fine. Aaa-ight. Das Bitch.

As far as I could understand, I was meant to go to a place called "Ski" which they pronounce "Shee." I went out on the platform, found the Ski train and got on. I was still a little uneasy. There was something Das Bitch had added to the instructions that I didn't understand. Maybe I don't take this train all the way, like, I have to transfer. I saw the two trendy blond girls with the backpacks again; they were at the other end of the car. When we got to Ski station, they got off.

Oh my God, I should do that too!

I panicked. How the flurgin' hell do I get off this churgin' flurgin' train?! I knocked over a family with my duffle bags as I bolted for the exit. I was hitting all kinds of buttons and window latches in an attempt to get the door in front of me open. The door behind me slid open and shut, I unhooked a luggage rack, I set off some kind of ear-piercing alarm. A conductor type slowly walked up to me and turned the alarm off with a key. He pushed a green button, the only button I had neglected to push. The doors swooshed open. I pretty much fell out of the train.

From a pile on the platform I turned around to thank him.

"Toozen—" and the conductor disappeared behind the cruel swoosh of the train doors.

I looked around. The two blond girls greeted some other blond girls, hopped into their car and drove off. A sign on the station building cheerily read "Ski." I found a map. Ha haaaaaa! A map! It was in Norwegian… Of course it was. I might as well have been trying to find directions from a Keith Haring mural.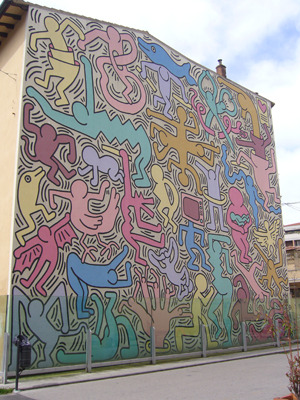 I sat down, completely spent and out of options on a cold metal bench on the platform and I cried. An ugly, ugly cry. Why did I come here? Why did I leave home? What was I thinking? I'm going to die here in SHEEEEEEE!

I lifted my head from the sprawled heap I had melted into on the bench and before me stood a pretty girl with ashy blond hair and bright pink cheeks. She was like a little wood nymph or something, freckly with a little sparkle in her eye.

"Are you Canadian?" She asked in perfect, crystal-clear English, pointing to the Canadian flag patches I had crudely sewn onto all my bags.

"Yes." I croaked, my voice Kathleen Turner-husky from the ugly-cry.

"Are you going to Follo?"

AM I WHAT TO WHAT-O?! There were trumpets … and fanfares … and gymnasts with ribbons… and fireworks shaped like hearts going off in my tiny world of despair.

"Yes!!!" I blurted out. "Yes I am." I don't know if I now exaggeremember this but I'm pretty sure I threw my arms around this stranger for an awkwardly long hug. I don't think I've ever been so thankful to see anyone in my whole life.

She invited her friends over and they all called me by name! They knew who I was because the school had been eagerly awaiting my arrival! They were all bubbly and excited and talkative and spoke to me in glorious English. They took my bags and we got on the next train to Vestby. When we got there, the principal of the school (called Thor … yup) met me in his Saab. After throwing his arms around me he drove me up to the school where everyone enthusiastically introduced themselves. I promptly forgot all their names and was shown my room where I collapsed into my own little bed and slept until midday the next day.

I will always remember how welcome the Norwegians made me feel. Even with greasy hair, peach juice on my sweatshirt and ugly-cry face, they opened their arms to me without any kind of judgment. Expect for Das Bitch. She wasn't a welcoming Norwegian. But she cuts her own hair. Badly.

What I learned from this: I think Dad was wrong. Europeans aren't more promiscuous than Canadians. Or at least, not with me.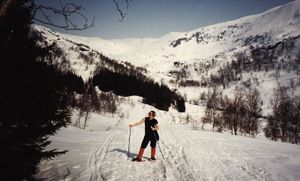 Whitney of the Mountains. (Western Norway)