"So, are you guys trying?" Trying. Ugh. It always feels weird to say it. Once I was married, suddenly everyone was interested to know whether my husband and I were "trying," inquiring in an easy tone like they were simply asking if we had thought about renovating our bathroom or buying a Kia.

How strange that a marriage license and public vows of love are permission for other people to ask you about your sex life. And it's not just the hopeful, excited grandparents-to-potentially-be that are interested to know what's happening in your bedroom and your loins, but people you hardly know. I admit, I have been guilty of this kind of inquiry in the past but as I've now seen the other side, I've changed my ways and I try to keep my thoughts out of other people's beds … and loins … mostly.

I adopted a phrase that my girlfriend taught me. When people started to ask me if I and the Irishman were "trying," I would tell them that "well, we've pulled the goalie." Generally it would either shut them up or ease the tension surrounding such a probingly personal question. I was tired of people asking. It was either utter a statement like that or ask if they'd like a detailed power point presentation to illustrate what we were really up to. But perhaps the latter was a little too aggressive. A goalieless net is much less graphic.

In our case, the goalie was on a freakin' hiatus, perhaps on a golf course somewhere for the better part of a year. Like a lot of women my age, I spent a good part of my teens and twenties "trying" NOT to get knocked up, and when it finally came time to take my glorious leap into motherhood, my body was incommunicado. It lead to months and months of cycle-tracking apps, high hopes and disappointment, blood tests and sonograms, planning and un-planning, radical diets and herbal supplements.

In the first few months of "pulling the goalie," I tried so many pregnancy tests that, if challenged, I could probably now pee on a stick from fifty paces. But with each one came the disheartening resignation of "oh, not this month, I guess." It had been 15 years since I'd consistently been off the birth control pill and so the experience was a little new. Being able to physically feel my cycle for the first time at 31 was fascinating, but I suppose, hardly dinner conversation. Not many people were eager to hear about my ovaries over a beef roast or my mittelschmerz over strudel (yeah … look it up, if you dare, mein friends.)

Without the help of my precious pill, my complexion declined into madness. Teenage acne?! Are you fucking kidding me?! I had gone through enough awkwardness and self-loathing when I was fourteen; did I really have to relive the fantastical breakouts of grade 3 through 12?! Just throw me a plastic necklace, tie a plaid shirt around my waist, buy my Soul Asylum tickets and I'll dredge up the whole horrifying thing! It was getting ridiculous. This persistent and totally embarrassing skin issue finally pushed me to get some answers. After all, when you're 31 and finding yourself ducking into doorways and nearly diving into manholes (careful now) to avoid people who knew you when your face wasn't a complete disaster, something's got to be done.

Following numerous blood tests (the Philippino ladies at the blood clinic now know me by name) and things being stuck in dark places by surly technicians, my doctor established that I had what is called Polycystic Ovarian Syndrome, or PCOS as it is also known. As it turns out, PCOS is fairly common. I was told that about 10% of women have it and around 80% of those women are overweight or obese. So, luck of lucks, I had the uncommon version … lean PCOS. I'm just a trend-setter, a rule breaker … what can I say? Lean or not, PCOS is a bastard.

As this condition seems to stem from excessive insulin in a women's body (go figure), one of the options for treatment is a diet adjustment. So I went to a naturopath to see what could be done. She was very soft-spoken, gentle, and intelligent; I knew I was in very capable hands. But after six days on the no sugar, no coffee, no alcohol, no wheat, no potatoes diet I was put on, I started to spitefully refer to this blameless professional as my "naziopath." But that misdirected anger mostly came from the junk food withdrawal and the total food disorientation I was experiencing. Once I figured out what meals I could fix that would fill my stomach, I became less troll-like and more pleasant to be around. I started to feel more energetic, my skin didn't really clear, but it started to feel less painful and I even dropped a couple of stubborn pounds that had been clinging to my ever-expanding backside.

In mid-October (after almost a year of "trying"), on a hunch, I picked up a digital pregnancy test on my way home one day. Not that I really thought that after only two months on this restrictive diet that I'd be less hormonally wacky and more prone to being pregnant, but I thought what the hell, nothing to lose but a full bladder … and about 16 dollars, I guess.

Fast forward to about an hour later … I'm sobbing hysterically – tears of joy, relief, fear, excitement and general holy-shitness – mascara streaks down my face and of course I'm still seated on the loo with a positive test in my hand.

Now, almost four months later, I'm over the barfiness, over the exhaustion (for the time being), over the initial fear and into some new and very genuine parental-expectation-what-the-hell-were-we-thinking fear. I sleep very little as I pee every 12 minutes, I have NO idea how to dress myself, I can't remember words like "rural", "albino" and "replay" in regular conversation and lately I've been dreaming very vividly about eating paper. But I'm happy … exquisitely happy and I'm very aware of my great fortune in this life.

What I learned from this: I have to number this as I'm feeling very opinionated and I also have a fear of disorganization these days as my brain slowly falls out my ass:

1. If you're having trouble conceiving and someone tells you "Hey, stop stressing. You just need to relax and then it'll happen," swallow your anger. They just don't get it and it's not really worth the confrontation.

2. Never … EVER … E-VER Google anything that you are concerned about as a pregnant woman, you will only find stories about the worst possible things that go wrong. Nobody puts their positive pregnancy anecdotes on the net, only horror, death and destruction.

3. Everyone has their own journey and story when it comes to pregnancy; they are personal, heartbreaking, uplifting, miraculous and incredibly unpredictable experiences and if someone chooses to share theirs with you, consider yourself very fortunate.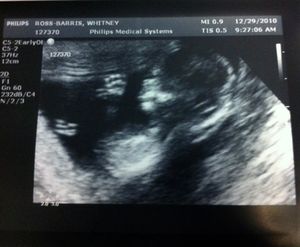 The babe ... waving hello.