I don't know about you, but on occasion I find myself in a situation where I start to look for hidden cameras. It is a situation that I feel can't possibly be happening in the realm of reality, so I figure it must be a set-up. In most cases, it is in fact not a set-up ... it's just my life. But spare me your pity; I do it to myself.

The first thing I did when I earned my union card as a stage actor was go to an open call. An open call, for those not familiar with it, is an audition that is … well … open to the general public. Anyone who wants to try out for whatever production is running it can turn up at an open call and get a shot a auditioning for the big show. In a lot of cases these cattle calls are simply publicity stunts to boost hype and ticket sales, but regardless, I have participated in my miserable fair share.

Allow me to describe to you the experience of an open call. As a non-union member, you show up as early as you can get there. Your eyes are puffy, your hair is wet and you look like you've paint balled your make-up on. You stand in line for hours with chain-smoking classical singers and overly-energetic teenagers, you sip cold coffee and try to keep the circulation going in your feet. If you're lucky, you get in with the first crowd and are assigned a number. What does the number mean? Usually nothing. You're still going to have to wait around all day until they call it. You watch union members show up last minute, they skip the line, air-kiss the administration and they go to see the panel right away. You start to doubt your life and career, and then by some miracle, at 5pm, when you've nearly lost the will to live, it's your turn. You smile at the now tired and impatient panel before you and you are so exhausted and overly-warmed up that you cack through the 8 bars that you are privileged to sing them.

Knowing that I could now skip all that crap, with my new union card in hand, I showed up at an open call for "Dancers and Singers who can Dance." Now, I am not a dancer. I admit, I can move, I can learn choreography, I can even dance, but I am in no way defined as a "dancer." But I thought, as I am a "singer who dances," I might as well give 'er a shot.

The audition was being held in a church-turned-theatre. As I walked through the door, my stomach dropped. It was like being a contestant on The Biggest Loser and accidentally walking onto the set of Fame. There were young (younger than me), thin (thinner than me) and very flexible (legs over heads) women stretching up and down the three floors of stairwell. They donned leg warmers and sweaters with the necks cut out and super tight buns … in their long, perfect hair ... I looked like I had just gotten off an Arizona seniors tour bus in wrinkled linen capris, a mumsy button-down tank top (that was too small for me), I had thin, unruly, partly grown-out hair, and I had pulled a groin muscle just looking at these threateningly talented dancers.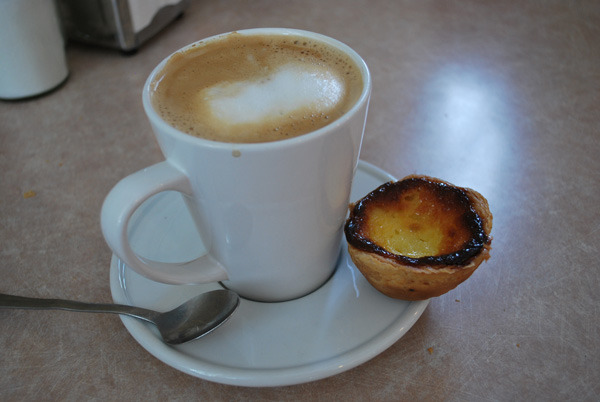 In the world where I make good choices, I turn around, recognizing my limits as a performer and go and have a coffee and custard tart in one of the many Portuguese bakeries in the area. In my real world of endless blunders and humiliation, I took a swig from my giant water bottle, choked a little, smiled at the bendy freaks in front of me and went to pretend to stretch in a corner behind a curtain.

Soon after, a woman came around with a clip board and called on all the union or "Equity" members.

"Here!" I screamed, exploding out from behind the curtain and knocking over my water bottle. I handed the Clip Board Lady my Equity card and grinned proudly as water from the overturned bottle quietly seeped into my shoes.

"Okay ladies, come with me. Bring your stuff." We ventured out into the stairwell, passing all the flexible women, my shoes squidging with each step, and made our way up to a very humid, armpiteous hall in the top floor of the building. I dropped my stuff at the back of the room and found an inconspicuous place behind everyone, near the exit.

The director and producer were introduced. They expressed their enthusiasm about the project and then slunk back into the shadow of the fabulously gay choreographer. He stepped forward and announced that the combination was quite simple, that we need not worry; we'd all pick it up in an instant.

"It's just basic ballet," he said as I nearly vomited in my mouth. I flashed back to my first ballet classes at age 15, awkwardly struggling to get my leg up on the bar, while the other busty and long-legged girls pirouetted and chaséed as if they'd been doing it since each was in utero.

The choreographer demonstrated the combination. A pianist played a delightful little rondo to accompany his light-of-footedness. The second time through, every stinkin' dancer in the room could do the whole combination, step for step, leap for leap … perfectly. Then there was me: tripping over gym bags, toppling over after every pirouette, losing steps and laughing at myself at the back of the room (to keep from weeping uncontrollably, of course.) As I searched for hidden cameras among now disheveled gym bags and book shelves, I noticed, to my horror the doorway of the room was tightly packed with non-union dancers peering in to watch the "pros." I suddenly wished I was drunk or delirious with typhoid if only to have an excuse for being so clumsy.

The choreographer split us up into smaller groups. Ohmygodohmygodohmygod! My group was called and as I couldn't find any places to hide among the beanpoles in the room, I sheepishly stepped forward. Needless to say, it did not go well. I tried to do what one of my merciful dancer friends once told me to do if I ever found myself in this situation: act the hell out of it. I tried to play up that I couldn't dance, making a sort of character out of it. What it looked like was me making fun of the choreography and/or simply being a terrible dancer. No role had ever come so naturally.

At the end of the session the Clip Board Lady approached some of the dancers and asked them to stay and sing. I was not approached.

I grabbed my things and walked out of the room, my shoes still squidging with every step, my head held high. I found the nearest Portuguese bakery where I ate custard tarts until I felt sick.

What I learned from this: Absolutely nothing. I did the same thing two years later for another audition and actually injured myself in the process. Also, I have a tremendous amount of respect for dancers as they are all incredibly skilled which is why, sometimes, I hate them.