Every Christmas, throughout my high school and university years, I added one more weird holiday job to the list of strange things I've done for money. I've doled out expired and melting lipstick to desperate and slightly insane women at make-up warehouse sales; I've shoveled copious amounts of horse manure; I've mopped the floors and cleaned the toilets of the Centre of Forensic Sciences; and I've even been a Christmas elf.

One December, I noticed a posting on an acting website calling for "elves." The ad sought university students who needed some extra dough for a "Santa's Little Helper" sort of photographer position. Somehow I equated it with playing an actual role and thought I'd give it a shot. What can I say? I was young and hopeful and poor and stupid.

Before the official festive season started, I found myself in a room full of white-bearded, mouth-breathing fat guys and a number of young women who were college and university students like me. Our boss went over the code of ethics in working with children and their often insistent parents. Everyone seemed to be an old hand at the gig and, as per usual, I was almost the only newbie. By the end of the meeting, conversation turned toward how our Santas were the best and had you seen that one in Oakville or Markham who had a fake beard and took long breaks and never smiled or talked to the kids?! 30 bucks for a picture with a sub-par Santa Claus? Puh-leeease!

In all honesty, our Santas all seemed to be very nice fellows, passionate about upholding the illusion for the kids and most of them had real white(ish) beards. Every time our boss mentioned the "elves" she raved about the beeeautiful costumes and how much I'd love them. "Well alright," I thought "a nice costume goes a long way! I'm in."

My first few days were at a beautiful old manor house. I joined two other "elves" and unzipped my garment bag to see a crappy elf costume made out of red and white fun fur (probably about a 1974 vintage), felt and starchy plaid packing ribbon. The other two girls unzipped their garment bags to reveal their shining, feathery, sparkly outfits that looked as if they could have been worn by Tonya Harding circa 1994. I'm sure in some world (perhaps a sluttier one) these costumes were beeeautiful, but in my world they seemed to be missing a great deal of fabric. Suddenly, my packing ribbon costume didn't look so bad.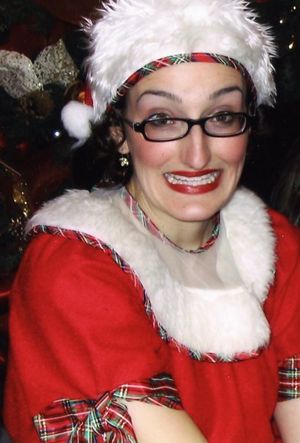 As an elf, my duty was to take digital photos of the often screaming and terrified children on Santa's lap, print the photo up onsite and cram it into a "Happy Holidays" greeting card with penguins on the front. I had a knack for bringing out the redeye in every kid, so eventually I was demoted to entertaining the waiting line-up of children and dads.

The Santas at the manor house were amazing. One of them had a Father Christmas accent and had an old key hanging about his neck. He told the children it was a magical key that did many things, including help him deliver presents to homes that had no chimneys. Very dedicated character work I thought ... Albeit a little creepy.

The other Santa looked like a ZZ Top sub-in bass player in his civvies, but as Santa, he was very convincing and quite jolly. This Santa had to take frequent breaks to empty his colostomy bag, poor chap. We'd just stick up the "Santa's feeding his reindeer. He'll be back soon." sign and binge on candy canes until he returned.

My clearest memory of that time at the manor house was sadly not the beautiful room the staff had so brilliantly decorated with gifts and toys and trees and lights, nor the enchanting surroundings of this lovely old building. My clearest memory was looking up, while one of the other elves heaved a two-year old onto Santa's lap, and realizing that I was staring directly into this elf's butt which was fully exposed beneath the tiny skirt of her beeeautiful costume. I almost went blind. Was she nuts?! Wear some damn shorts! Wear some Grannies for God's sake, but a thong?! Honestly. It then dawned on me why so many dads offered to line up with their impatient kids to see … Santa.

From the manor house, I then graduated to a shit hole of a strip mall out of town. The Santa there was morbidly obese, tearing the seams of his trousers daily until we were unable to stitch the frayed fabric back together, covering his bulging gut with a burgundy dinner napkin instead.

Pet day was an adventure. It was a chance for people to bring in their family pet for a picture and with Santa. I don't know whose idea it was to bring together all manner of creatures in the middle of a mall, but there we were. Dogs fighting dogs, dogs chasing cats, cats howling at each other, angry parrots screeching at the cats, bunnies frozen with fear and all of them disoriented from the strange world that was this gaping atrium in the middle of a strip mall. I wonder where those pictures are now and why the hell you'd want to remember Christmas 2002 with a picture of Fluffy whizzing on Santa's lap in abject fear.

But there was a positive side to the shit-hole strip mall, napkin-crotch Santa debacle: I finally got to wear the slutty elf costume. Oh yeeeeah. I elected to wear shorts under my tiny skirt, after learning my lesson the hard way. Wearing the slutty elf costume yielded a lot of power. For some reason, elves dressed as strippers are not only listened to by unwieldy, I'm-gonna-count-to-four parents, but well-respected by misbehaving children. I felt a great sense of authority and control in wearing it. I had to make sure people stayed in line, that children were happy, that Santa didn't stand up (in case the napkin fell off.) It was up to me to make sure things ran smoothly. Of course, it goes without saying that my husband also loved the costume and would leave his work early to leer at me until the end of my shift.

I admit, I took pride in my job as elf. I would secretly talk to parents and then surprise flabbergasted kids with my knowledge of what they wanted for Christmas; I would sing carols with them; I would answer their questions about Rudolph and the workshop. I was a great elf.

It was what it was: just another wacky temp job to add to the list of strange things I've done for money.

What I learned from this: Christmas can be magical for kids, but put a tiny skater's dress on a young, female university student and it can be magical for dads too.