My grandparents both grew up in New York. My grandmother told me stories of how she worked as an accounting clerk at Macy's in the '30s. She also remembered when a small plane flew into the Empire State building about 70 years before that other infamous event later generations remember so vividly. My grandfather lived in Jackson Heights, won trophies for singing, hung around in movie theatres and jazz clubs and learned to play the clarinet because Benny Goodman did (although he did give it up when he nearly lopped off his pinky, shearing fabric in his mother's fur shop.)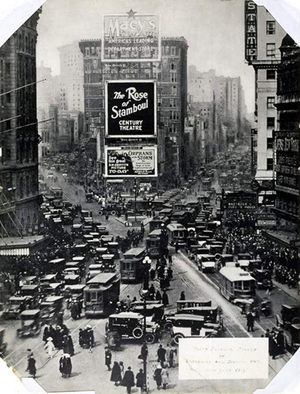 One gloomy spring, I decided on a whim to get a train ticket to New York City. I'm not generally prone to travelling impulsively, but I had written a one-woman play about influential jazz singer and ex-heroin addict Anita O'Day and I was eager to see a new documentary about her life. It was to premiere at the Tribecca Film Festival in New York in May of 2007. I knew the filmmaker would be there (the man who holds the late Anita's 'life rights' – whatever that means) so I informed him in an unanswered e-mail that I was coming to see the film and that I'd like to chat with him about "our" Anita.

I begged all of my friends, one after the other to come with me. But alas, they were all too busy and swamped with work to come and it soon became clear that I was the only one with no life enough to slip away for a weekend unnoticed. So I was to make the trip on my own. By myself ... Alone ... In New York ... Gulp.

I was stuck in a crime-drama-induced fear vortex. Always the trusting and naïve traveller, I was certain that in New York I'd be shanked for my running shoes and found dead under a tarp in an alley with that Law and Order cadence underscoring my discovery: "Dun-dun."

Despite my misgivings, I got on the train early Friday morning, congratulating myself for making the wise and budget-conscious choice of taking Via Rail rather than flying or bussing it. What beautiful scenery, what great customer service, what a civilized way to travel! Wait … why are we stopping?

So … I guess … customs officials are not on your side at the U.S. border. They dress in scary combat gear, carry ambiguous weapons covered in Kevlar, use flashlights in the middle of the day, they don't like you and they don't like that fruit in your purse. I think they want you to cry and pee your pants; that they have a quota they have to reach and check off on a pee-pants list. Three separate officials questioned me on the train. Even though I had nothing to hide, I was increasingly offended and terrified. It was as if they were trying to one-up each other in aggression.

The first officer sauntered over like he was my buddy and inquired, "Where are you from?"

"Toronto!" Oh God, that was too loud … lower your damn voice, Whitney! 

"I'm from …" and I whispered, "

Toronto.

" Nothing. I'll give you nothing, man. You'll never break me! I smiled sweetly, nostrils flared.

The next officer approached me as a boxy-headed woman rifled through my purse.

"Where are you headed?" this guy was more like a disgruntled, android drill sergeant as he came right up to my face and looked me in the eye like he was really farsighted and angry about it.

"Uuuuuuuh ..." Where am I headed … what am I doing … where am I going … what is my name … why does his breath smell like tuna?!

"New York City. I'm going to see a movie!" Another point for me, suckaaa!

"What is your profession?"

"I'm a..." Um … uh … what do I do? Should I tell him I'm in catering or that I'm an actor?

"I'm a cater-ACtor." He stared blankly at me. What the hell is a cateractor? Aw jeez.

"Do you intend to work while you are in the United States?"

"No! Oh NO!" I shouted, again unable to control the volume of my voice and then laughed nervously. An even more aggressive officer replaced him and this one had a flashlight which he shone in my eyes. I recoiled like a frightened cat. The purse-sifter, took the orange in my purse and went to help the first guy, my buddy, who had begun shouting at a woman whose first language was not "power-drunk American."

Just as I thought I might make the pee-pants list, Flashy the Flashlight Man, became distracted and joined the fray until they booted this poor woman off the train. What followed was a 16-and-a-half hour, subarctic train ride that smelled of hotdogs, hairspray, cigarettes and Mennonite sausage.

When I finally rolled into New York it was in the hairy armpit of night. I was freezing cold and sweaty at the same time, my hair was a cone-head slick and my lips were pale and cracked (I really don't travel well). I saw The New Yorker building emerge out of the darkness like a beacon of hope. It made me think of my grandfather, the young writer trying to make his way in this giant movie set of a city and I sobbed; not just for the orange that I lost at the border and for how freekin' hungry I'd become because of it, but because I felt a sort of relief in familiarity, like I was finally coming home.

I checked into my room at the Vanderbilt Y. It was the size of an IKEA wardrobe but fit a bunk bed, a mini fridge, a TV with no remote (quel dommage) and a window that didn't shut. But clean. Things were looking up. I had a great sleep (despite my fear of bedbugs and the waste depot-that-never-sleeps across the street) and woke to discover from my lofty top bunk, that my glasses were in two jagged pieces on the floor. Shit. Ah well, screw it, I had my contact lenses and I was in NEW YORK! I was so excited I nearly high-kicked out of bed.

The first couple of days, I walked my feet to blisters. The weather was beautiful, everything was green and brilliant, New Yorkers were out together strolling and jogging and rowing in Central Park. Then I went to the theatre (dreamy sigh). I saw Christopher Plummer in Inherit the Wind, and the mind-meltingly talented and nauseatingly young cast of Spring Awakening. It was a wake-up call for me, a theatre actor to observe all of these regular folk so thrilled to be out watching a play or taking in a musical. A far cry from the twisted arms of surly accountants begrudgingly treated to a showing of We Will Rock You on a Tuesday night in Toronto.

I phoned my husband on the way back from the show. My head was pounding but I was ecstatic, surrounded by this wild and electric New York energy and inspired by the shows I'd seen.

When I got back to my room at the Y, the headache worsened. The ecstasy turned to nausea. By 3 a.m., I was as sick as a dog ... One that pukes a lot. The undercooked burger I had eaten earlier that day had gotten belligerent and the digestion rave in my stomach had been busted. Whoop, whoop! Everybody out, by whatever means necessary! Every twenty minutes I blindly (as I couldn't just repeatedly take my contact lenses in and out all night) found my keycard, locked my door, sprinted down the hallway to the shared women's washroom and bowed reverently to the porcelain gods I found there. This cycle repeated all night and into the morning when I was literally about seven pounds lighter and as weak as a Hallmark greeting card kitten.

I spent the next morning watching reruns of Dog the Bounty Hunter and Intervention, unable to change the channel, trying to keep down dry cereal and vitamin water and sobbing into the phone to my husband about whether I'd make it to the film screening or not which was to happen that afternoon. I thought I was going to die and no one would find me until the tenants started to complain of "a horrible smell." (Insert Law and Order cadence here: "Dun-dun.") It took every molecule of chutzpah in me to climb out of that bunk, turn off the damn TV, put on some pants on and find my way to the movie theatre.

The film was mercifully brilliant, showcasing the talent, personality, whimsy and wit of this old jazz singer. The filmmaker got up and spoke afterwards, getting choked up remembering Anita's quips and strong opinions throughout the making of the film. He invited me to come out and have drinks with him and some of the other people involved in the film. Ooooooh, drinks! Drinks with Anita's filmmaker! Drinks out in New York City!!!

It took my very last thread of strength to turn him down. Dammit, dammit, dammit. Here is the reason I've come to New York in the first place, asking me to come out on the town, and I can barely keep Rice Krispies down let alone have drink. I gave him a kitten-weak handshake and left and surprisingly, had enough fluid left in my system to cry all the way back to the Y.

The next day I left the brilliant shine of spring in New York for the gloomy din of late winter in Toronto. Back on the crappy train, back to crappy Toronto. But having been so sick in shiny New York, gloomy Toronto was starting to look real purdy. My home, my bed, my base and all the memories I had sponged into my brain of this strange trip to reflect on (not to mention my man, who would no doubt shower me with that oh-so-needed pity.)

So, listen New York, I don't know what your problem was with me, but I'm coming back. And next time, I'm bringing Dukoral, bitch.

What I learned from this: Thanks to Intervention I experienced how similar food poisoning is to heroine withdrawal, except that I don't live in a trailer or say f*** as much.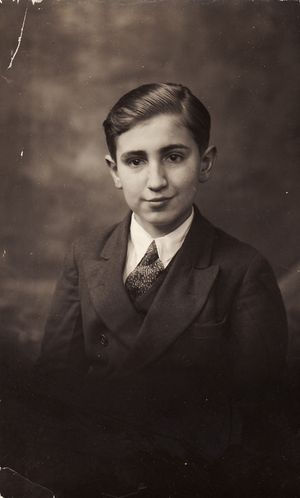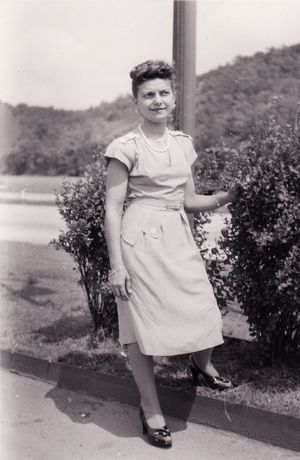 My grandparents, Alex "Butch" Barbaritis and Koula "Kay" Kontozoglus.